04/02/2021
After That? – E Depois?
A Pastor asked a school boy;
Pastor: What do you want to be?
Boy: I want to become an Engineer.
Pastor: After that?
Boy: I will become General Manager of a big Company.
Pastor: After that?
Boy: I will purchase a Big House?
Pastor: After that?
Boy: I will have a beautiful wife.
Pastor: After that?
Boy: We will have kids.
Pastor: After that?
Boy: I will give them good education.
Pastor: After that?
Boy: They will get good employment.
Pastor: After that?
Boy: They will have families.
Pastor: After that?
Boy: I will retire from employment.
Pastor: After that?
Boy: I will play with my grand children.
Pastor: After that?
Boy: I will become still older.
Pastor: After that?
Boy: I will say goodbye to my family and die.
Pastor: After that?
Boy: I DON'T KNOW.
Pastor: So your planning is for just 60 or 70 years, that is approximately 25,000 days?
Boy: I NEVER THOUGHT OF IT.
Pastor: But God has a purpose for your life and He likes to give you an eternity that is living with God in his house, heaven. This small life of 25000 days is given to you for training and during this training He conducts daily examinations. Your ultimate aim should not be to become a General Manager but TO BE WITH GOD FOR EVER IN HEAVEN! AND JESUS CHRIST is the Way to Heaven!
HAVE YOU ever thought of your future, or going to Heaven?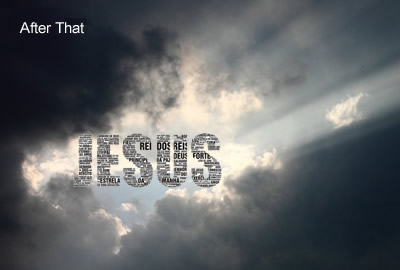 This student is not the only one to think this way, that kind of thought is common nowadays. Not only the youths make plans, but all of us. Hundreds of souls pass daily for the eternity, without at least to know the minimum about it.
Not only this young student that had finished his course, but all of us need to know that only two different ways exist, and where they drive.
In the Word of God it says: "Enter ye in at the strait gate: for wide is the gate, and broad is the way, that leadeth to destruction, and many there be which go in thereat: Because strait is the gate, and narrow is the way, which leadeth unto life, and few there be that find it. (Matthew 7:13-14).
It is not easy, but we need to enter for the narrow door, because if we didn't enter for it, we are still in the fatal road, where we make our plans without Jesus to be ahead; in the Bible there is a passage on a farmer, and…
Jesus proposes a parable:
The ground of a certain rich man brought forth plentifully: And he thought within himself, saying, What shall I do, because I have no room where to bestow my fruits? And he said, This will I do: I will pull down my barns, and build greater; and there will I bestow all my fruits and my goods. And I will say to my soul, Soul, thou hast much goods laid up for many years; take thine ease, eat, drink, and be merry. But God said unto him, Thou fool, this night thy soul shall be required of thee: then whose shall those things be, which thou hast provided? So is he that layeth up treasure for himself, and is not rich toward God.(Lucas 12:16b-21).
The Bible asks:
Behold, thou hast made my days as an handbreadth; and mine age is as nothing before thee: verily every man at his best state is altogether vanity. Selah. (Psalms 39:5)
Jesus said:
My sheep hear my voice, and I know them, and they follow me: And I give unto them eternal life; and they shall never perish, neither shall any man pluck them out of my hand. (João 10:27-28)
Behold, I stand at the door, and knock: if any man hear my voice, and open the door, I will come in to him, and will sup with him, and he with me. (Apocalypse 3:20)
And for you be right of that, and to know that God guarantees us an eternal life to His side, Jesus increases:
All that the Father giveth me shall come to me; and him that cometh to me I will in no wise cast out. (João 6:37).
HEAVEN A PLACE OF JOY WITH GOD, THINK SERIOUSLY ABOUT THIS!
Veja também E depois…
Preparado por Daniel Borges 29/08/08 – Based on Pr. Mohan C. Thomas – Índia

Se, pois, fostes ressuscitados juntamente com Cristo, buscai as coisas que são de cima, onde Cristo está assentado à destra de Deus.